Reverse Auction for Logistics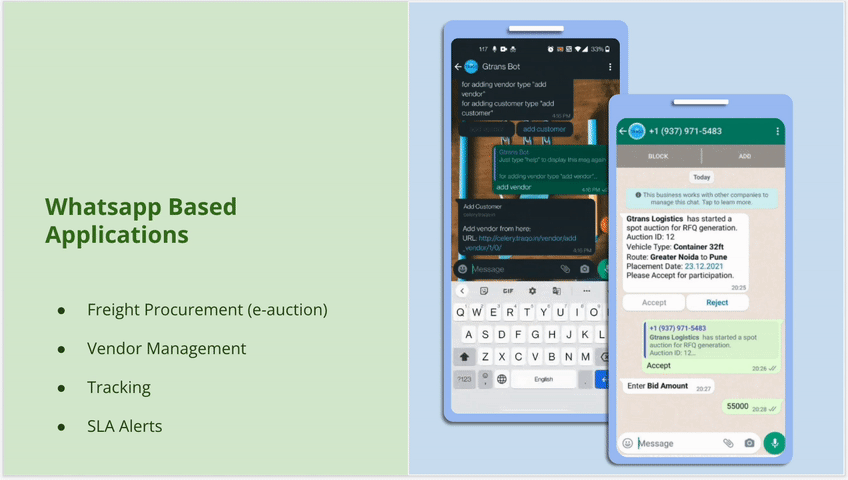 In the ever-evolving world of logistics, businesses are constantly seeking innovative solutions to streamline their operations and reduce costs. Traqo, a leading name in the logistics technology sector, has introduced a game-changing feature: the Spot Auctions module for freight procurement. This blog post delves into the transformative impact of Traqo's reverse auction in logistics.
Digitalized Freight Procurement in a Few Clicks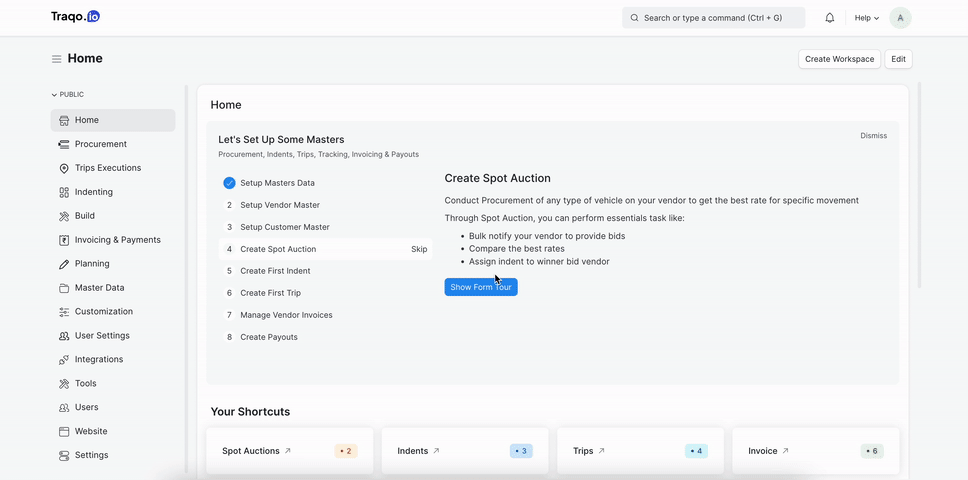 Gone are the days of tedious paperwork and manual errors. With Traqo's Spot Auctions module, businesses can create a new freight procurement request with just a few clicks. This digital transformation not only eliminates manual errors but also ensures that logistics operations are more streamlined and efficient.
Instant Communication via WhatsApp
In today's fast-paced world, instant communication is crucial. Recognizing this need, Traqo integrates seamlessly with WhatsApp, a globally popular communication platform. Now, businesses can inform their vendors of new procurement requests instantly via WhatsApp, ensuring rapid bids and efficient communication. This feature significantly reduces the time taken to receive bids, making the entire procurement process more streamlined.
All Vendor Bids at a Glance
Transparency is paramount when selecting the right vendor. Traqo's Spot Auctions module provides a comprehensive view of all vendor bids in one place. This centralized view allows businesses to easily compare bids, gain insights into auction milestones, and make data-driven decisions. Furthermore, businesses can view the winning bids and allocate tasks to vendors directly from the platform, ensuring a seamless and efficient process.
FAQs:
What is the freight procurement process?Freight procurement involves securing transportation capacity for cargo. This can be achieved through various methods, including long-term contracts, spot rates, and digital platforms like Traqo.
How do you tender freight?Freight tendering involves sending out a request for proposal (RFP) to various carriers or service providers. Traqo simplifies this process by digitizing it, providing a centralized platform for communication and bid comparison.
What is freight sourcing?Freight sourcing is the process of identifying and securing transportation services for goods, which can involve negotiating rates, establishing contracts, and ensuring timely and efficient delivery.
What is the meaning of Freightender?Freightender is a platform or tool used in the logistics industry to facilitate the freight tendering process. It aids businesses in finding the best rates and services for their transportation needs.
In conclusion, Traqo's Spot Auctions module is revolutionizing the logistics industry by offering a digitalized, efficient, and transparent solution for freight procurement. With features like instant communication via WhatsApp and a centralized view of all vendor bids, Traqo is setting new standards in the logistics tech sector.
For more information or to book a demo, visit Traqo.io.